With Covid-19 numbers back on the rise here in Oklahoma, it makes sense to look at more ways in which we can protect ourselves from the virus. While we are probably all well versed in ways to protect ourselves thanks to the WHO, CDC, mainstream media, social networking sites, commercials, billboards, et cetera; wash your hands, cover your mouth when you cough, wash doorknobs…we've all be inundated with the information on how to personally protect ourselves, haven't we? One thing that doesn't seemingly get talked about though is our vehicles. Your car or truck certainly have the potential of picking up germs and dealing with cross contamination and yet, you may not have even heard about the need to sanitize your vehicle.
The Need to Sanitize Your Vehicle
Think about, you drive your vehicle to the store, to work, out to eat, and the various other places you may find yourself in need of going to and from on the daily. Each time you get in; you get out. You touch the door handle; you touch the steering wheel. You touch the seat belt; you touch the gear shift. There is a lot of potential there for contaminating your vehicle with germs, and that is just if you are getting in and out of it, which doesn't even consider passengers who may also be touching things and adding to the potential for spreading germs.
What Areas to Sanitize in Your Vehicle
Center console and arm rest
Center stack knobs
Dash
Exterior door handles (inside and outside)
Gear shift/selector
HVAC vents
Infotainment screens & GPS screen
Interior door pulls and panels (both sides)
Key and remote fob
Parking brake handle and release lever
Rear view mirror (don't forget back and edges)
Seat belt and buckle
Start button (if your vehicle is equipped with one)
Steering wheel
Turn signal lever
Windshield wiper controls
What to Use to Sanitize Your Vehicle
There are lots of various products that you can purchase to do the job. However, spending lots of money on fancy products is not necessary. Chances are that you have everything you need to sufficiently sanitize your vehicle sitting around your home.
Soft cloth or microfiber cloth
It is good to use a clean soft cloth, such as microfiber, so that you do not scratch the hard surfaces of your vehicle, such as the dash, while you clean.
The CDC recommends using a cleaning solution that contains at least 70% alcohol. You can use isopropyl alcohol on most any surface in your vehicle without fear of ruining the interior.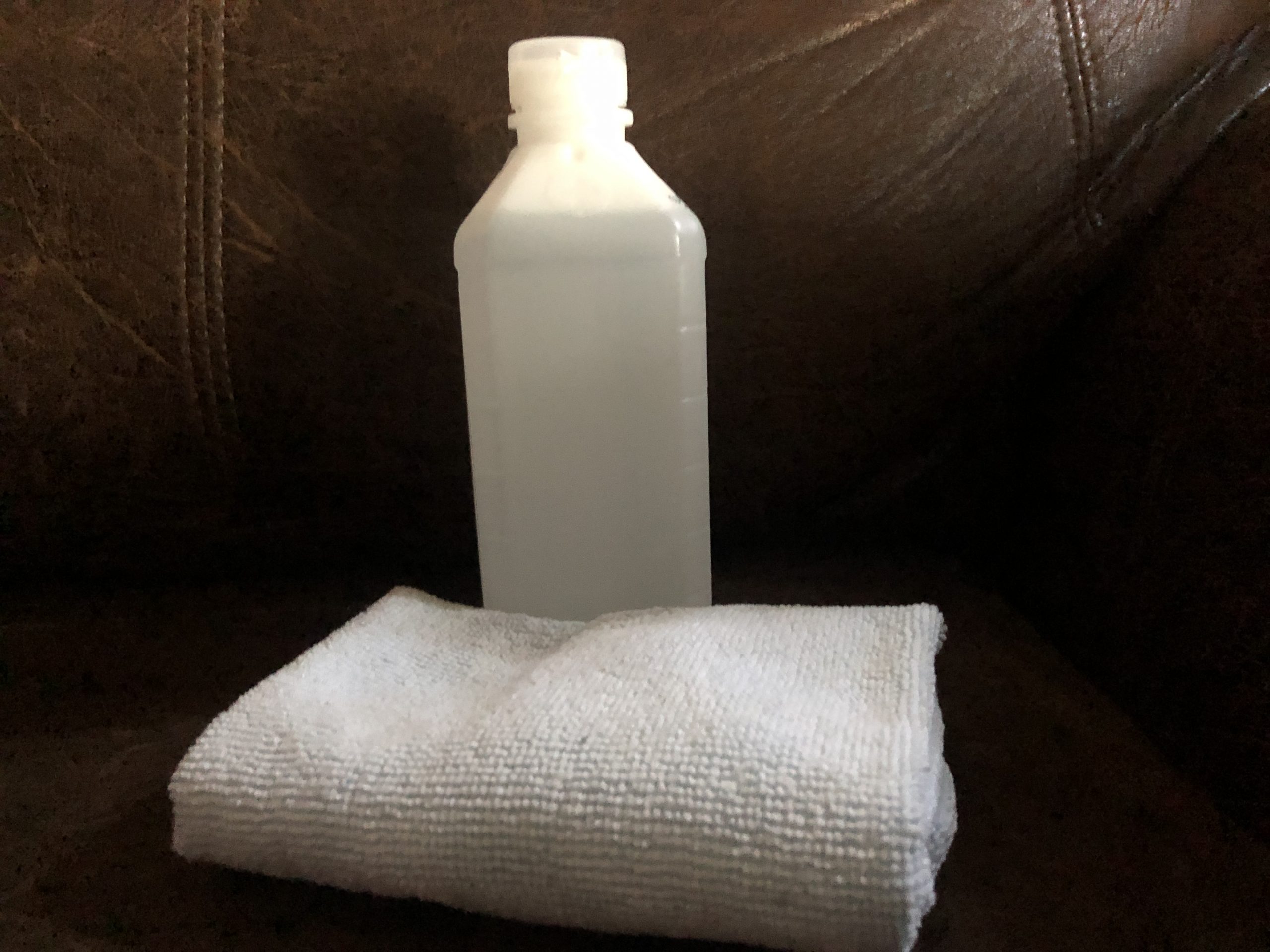 An alternative to using alcohol is soap and water combined with some elbow grease. The action of rubbing and scrubbing combined with soap and water has shown that it can damage the protective layer of the virus cell. If you have leather interior, especially if it is older, soap and water may be more preferred over alcohol. In any case, whether you use alcohol or soap and water on your leather interior, you will want to follow up with a leather conditioner to help protect the leather from the wear and tear of being sanitized consistently.
What Not to Use
Avoid using benzene, bleach, hydrogen peroxide, and other thinners or harsh and abrasive cleaners.
These types of cleaners may sanitize well, but they will likely damage your interior surfaces and upholstery in the process.
Do not use ammonia-based cleaners
While it may be okay to use ammonia-based window cleaner to clean your windows, you absolutely do not want to use it on the infotainment screens or GPS screens. This is because it will damage the anti-glare and anti-fingerprint coatings if you do.
It is a good idea to wash or sanitize your hands before you get into your vehicle. Additionally, it would be a good idea to sanitize the steering wheel and high touch areas of your vehicle…often. If you don't want to do the initial deep clean sanitizing, but only the maintenance, we would suggest getting it professional detailed from a company like Chase Detailing. OKC Auto Works does sanitize your vehicle when it is in our shop for a repair and before returning it to the customer.
Note: OKC Auto Works does online estimates and curbside estimates, as well as pickup and drop off on repairs in an effort to be sensitive to those with autoimmune issues and Covid-19 fears.