Oh hail. In Oklahoma, we don't hunker down from a storm, but rather we meet it head on with preparation, Okie ingenuity, and a good comprehensive insurance plan. Oklahomans know that when you're going through hail, you just keep going. This is how resilience is made and Oklahomans are nothing if not resilient. And while we hope every year that we will be spared from any deadly storms, we realize hail and tornadoes are an inevitable part of life on the plains.
While it is just barely May (our most active month typically for severe weather), this year has already brought us many active hailstorms and with larger hail in some cases than we typically see. While these storms usually only last a few minutes, pelting homes and automobiles with damage-wrecking balls of frozen precipitation, the hail damage left behind can often be astronomical. This year already, hundreds of Oklahomans are already filing claims with their insurance companies to recoup the costs associated with repairing their roofs and their vehicles.
Hail in Oklahoma this year
According to Stormsite, here are the current number of hailstorms in and around the Oklahoma City Metro area:
| | | |
| --- | --- | --- |
| City | # of Storms | Size of Hail (inches) |
| Oklahoma City | 15 | 1.75 |
| Moore | 9 | 1.25 |
| Norman | 10 | 3.25 |
| Del City | 9 | 1.50 |
| Newcastle | 4 | 1.25 |
| Blanchard | 3 | 1.00 |
| Purcell | 8 | 3.50 |
| Noble | 14 | 3.50 |
| Goldsby | 8 | 3.50 |
| Pink | 16 | 3.50 |
| Slaughterville | 19 | 3.50 |
| Lexington | 11 | 3.50 |
| Lindsay | 1 | 1.00 |
| Maysville | 6 | 1.75 |
Data for storm damages was gathered from Stormsite.com
What to do if you have hail damage
While there are some things that can be done to help prevent your vehicle from getting hail damage, putting your vehicle in the garage being the best option, once the storm is over it is too late to worry about how it could be prevented. Instead, it is time to determine how much hail damage you have and if you need to file a claim. Additionally, you will need to determine who you should call for repairs. Moreover, if this wasn't enough of a burden to deal with, you also have to worry about opportunists swooping in to take advantage of the storm.
"Storm chasers" typically follow hailstorms looking to cash in quickly on such an event and then head out of town to chase the next big one. The National Insurance Crime Bureau recently reported that "personal auto" claims accounted for nearly three-quarters of a million of the total complaints filed each year.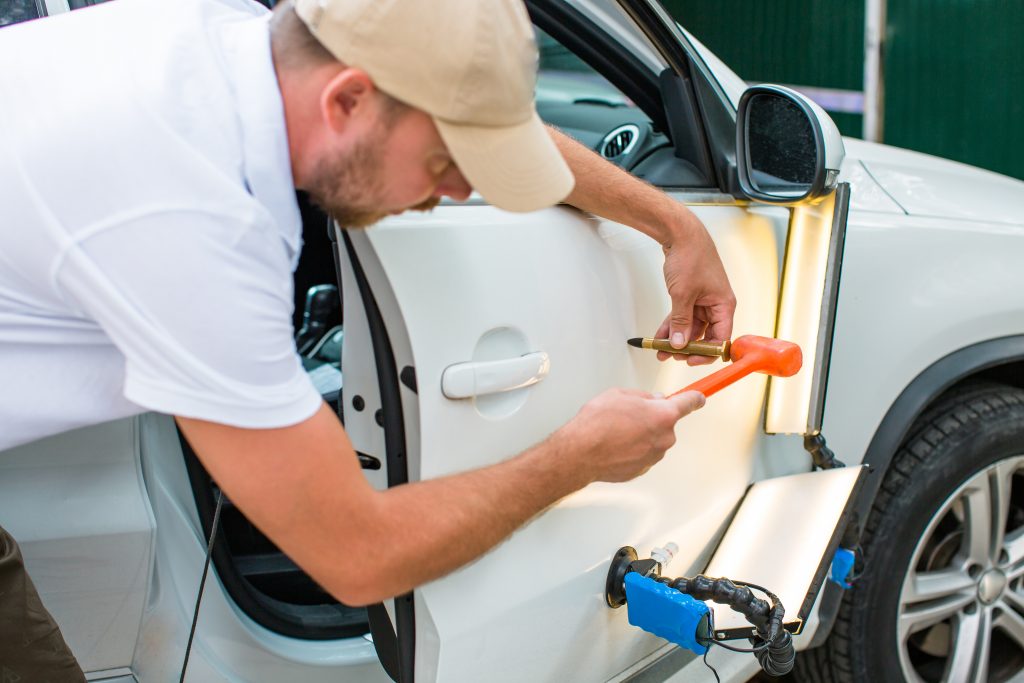 So that you do not fall victim to a "storm chasing" opportunist when it comes to repairing your hail damage, we have compiled a list of things you can do to ensure you have the best hail repair experience possible:
Use a local, long-time established body shop for your hail damage repairs.

OKC Auto Works has serving Oklahomans with their auto body and auto repair needs for nearly 20 years. We plan to be in business for many more years to come.

Check with your insurance company or agent before taking your vehicle to a shop (they usually know what companies have a history of bad service).

Most insurance companies have OKC Auto Works listed as a trusted auto body and paintless dent repair facility.

Don't be pushed into paying money upfront – a reputable body shop does not require any payment until the repair is complete.

OKC Auto Works never requests payment before the job is complete.

Find out if the shop carries a warranty on their work.

OKC Auto Works has a lifetime warranty on our work.

Make sure the shop is an I-car certified shop.

OKC Auto Works is an I-car certified and ASE certified shop. This means our technicians and mechanics have received all their necessary training but receive on-going training annually to ensure they are able to repair the latest makes and models

DO NOT trust any auto body and hail damage repair company that shows up at your door soliciting business.

A reputable and local auto body and hail damage repair company will not go door to door asking for business.
While we know that even good luck has its storms, and apparently for Oklahoma that is an seasonal series we go through annually every Spring. When faced with such storms, we become stronger. As an Oklahoma-based business, we are here to weather the storms right along with you. We would love everyone to choose OKC Auto Works for their hail damage repair and storm damage repair, but if you do choose to go with another company, please do yourself a favor and make sure they are well established and local. That way if there is a problem, you have someone to go back to for solving any issues. With out of state storm chasers, they can easily be here today and gone tomorrow…off chasing hail.
Give OKC Auto Works a call at (405) 634-8200 to schedule your FREE hail estimate.